Biographies
Edit
"Is this an interrogation? I bet you want me to tell you that I am a wise-cracking mercenary with a regenerative healing factor - basically a better version of Wolverine. Or you want me to say I have a keen sense of fashion and a gorgeous face. Well I'm not going to! This 'Merc With a Mouth' is keeping his mouth shut this time!" [1]
Marvel: Ultimate AllianceEdit
"The day my father Odin banished me from Asgard, I was bitten by a vampire and had radioactive waste dumped into my eyes. To make matters worse, my mutant ability to control weather activated just as I was hit by a blast of gamma radiation.
Nah, actually, I got this way by volunteering for the Weapon X Program. They promised to cure my cancer. And they cured it all right, by giving me an outrageous healing factor. Then they labeled me psychotic and tossed me into a prison lab.
So I escaped and became what some people might call a 'mercenary'. I prefer the title 'cleaner of the gene-pool'..."
"To cure his terminal lung cancer, Wade attempted to obtain mutant powers artificially. However, the side effects of the procedure disfigured him and also caused psychological damage. Although he loves having cheerful conversations, because of his madness no one really knows what he's saying." [2]
File:Marvel Avengers Alliance - Icons - Tasks - Deadpool.png
Marvel: Ultimate Alliance
Edit
Assassin Strike
Dual Shot
Teleport Flurry
Blade Cyclone
Grenade Toss
Wisecrack
Battle Cry
Merc's Revenge
​Marvel: Ultimate Alliance 2
Edit
Bullet Barrage!
Bouncy Slash!
Tele-Splode!
Safety Dash!
Deadpool: The Video Game
Edit
Marvel: Ultimate Alliance 2
Edit
Marvel vs. Capcom 3
Edit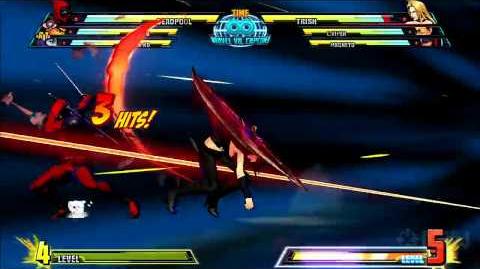 Wikia Page(s)
Edit


Marvel: Ultimate Alliance Wiki
External Web Page(s)
Edit
Marvel vs. Capcom 3 - Deadpool
Cite error: <ref> tags exist, but no <references/> tag was found