Biographies
Edit
"Born in 19th century Canada, James Howlett was a frail child. His mutant abilities did not manifest themselves until adolescence, after which he became a drifter and soldier. He drew the attention of several shadowy black-ops organizations, and suffered experimental procedures that bonded Adamantium to his skeleton and claws. Now a committed member of the X-Men, Wolverine carries a mortal grudge against Victor Creed, better known as Sabretooth." [1]
Marvel: Ultimate AllianceEdit
"Thanks to the butchers of the Weapon X program, I don't know much about my past. They messed with my head and coated my bones with unbreakable adamantium - all in the hope of turning me into the ultimate killing machine.
Well, they were successful. I did a lot of killing as I escaped out of that mad house. Eventually I made my way to the X-Mansion. There I found a home and a purpose with the X-Men.
Now I fight to help people rather than hurt 'em..."
"Beneath his gruff and crude exterior lies a noble spirit who genuinely treasures his comrades. However, in the face of his enemies he is mercile, often employing extreme measures in his methods." [2]
(Level 09)
Marvel: Ultimate Alliance [3]Edit
Claw Slash
Lethal Lunge
Eviscerate
Rage
Feral Rage
Marvel: Ultimate Alliance 2
Edit
Lunging Rage
Whirling Slash
Dashing Flurry (Level 05)
Claw Kebab (Level 10)
Marvel vs. Capcom: Clash of Super Heroes MovesetEdit
Marvel vs. Capcom 2: New Age of Heroes MovesetEdit
Adamantium Claws
Edit
Bone Claws
Edit
Marvel vs. Capcom 3: Fate of Two Worlds MovesetEdit
Ultimate Marvel vs. Capcom 3 MovesetEdit
Normal Attacks
Edit
Special Attacks
Edit
Assist Attacks
Edit
Hyper CombosEdit
Marvel: Ultimate Alliance
Edit
Marvel vs. Capcom 3
Edit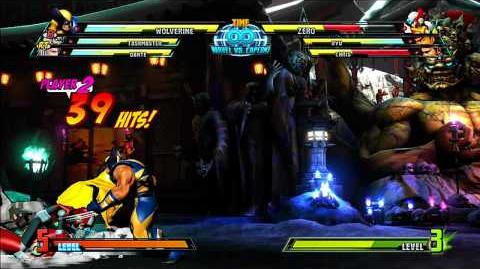 Miscellaneous
Edit
Rank #06 at 2:36
Wikia Page(s)Edit


Marvel vs. Capcom Wiki
​External Pages
Edit
ReferencesEdit